Get-A-Grip! - A COACH'S STUDY
Looking back on my youth I realize how lucky I was to grow up on a farm where my dad trained me with a wide variety of cross training activities. These included things like throwing bales of hay, scooping manure, castrating 50-75 pound hogs, carrying buckets of feed and water, along with a number of other activities he called chores. Little did I know that I was being trained for a successful high school wrestling career. It did not take me long to figure out that much of my success was due to the training and discipline that I received in my younger years.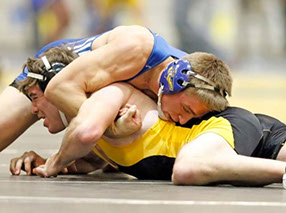 Let's compare this to the majority of today's youth. First of all there are less and less kids being raised on the farm today and many that are blessed with this childhood do not experience many of the activities that I listed above. Consequently, athletes entering my program and your program do not have the same skill set and mind set of yesteryear. It is my experience that one of the most neglected areas of strength in today's wrestlers is that of grip strength. I have thought about different ways to improve this area and I wanted to establish a system to improve this strength and monitor the data to see if what we were doing was really working. Here is the study that I conducted and how I went about testing my hypothesis.
My first goal was to identify a training program that would improve the strength of all our wrestlers. I also did not want this to add to our daily practice time. I then wanted to have data that I could disseminate and see if the training program was really working.
As a head high school coach of 21 years and a University of Nebraska of Kearney Alumni I am always searching for things that I think can make our program better. My oldest son wrestles for UNK and we got to talking about their use of Grippers. After some thought, I wanted to incorporate this activity into our program and conduct a study to see if the activity would help our athletes. So I contacted Madison High School and asked Coach Loosvelt if they did any specific grip strength activities. When he said that they did not, I knew that they would be a great control group to cross reference our results with.
I then contacted Erich, the Owner of Pro-Grip Company and explained what I had planned. He thought it was a great idea and fully endorsed it by supplying our team with Pro-Grippers. After some discussion it was decided that we would use the 40 pound grippers which are their medium grippers. At the beginning of the season I took a few minutes to explain the study to our athletes so they would understand the importance of this project. While I will say we had many wrestlers that did a great job, I also think we had some that did not take the study very seriously. I think this is the case with all studies and that is why conducting numerous studies with large control groups will always produce results with more validity.
So, here is how we conducted the study:
All wrestlers on the Schuyler Wrestling Team and the Madison Wrestling Team completed a grip test on the first day of practice. The grip test was pretty simple. We used a regular bathroom scale and asked our athletes to squeeze and hold the scale as hard as they could with both hands for two seconds. We then recorded the pre-test grip strength of each wrestler. In hind-sight I would conduct the test three times and take an average of these three tests. We then began implementing our daily grip training. This training consisted of each wrestler using a gripper, or donut as we called it, during our seven minute warm-up run. They were asked to put the gripper in one hand and squeeze it for 10 reps and then switch hands, squeeze it for 10 reps and continue for the entire seven minute run. Once our team got into the routine I think they did a pretty good job with this. I also had my assistant coach monitor their warm up and help motivate those that appeared to be slacking in this area. While we were doing this, Madison High School was not using any specific grip training method during their season. At the end of the season we both conducted the same grip test that we used the first day of the season. Here is what our results showed.
GRIP TRAINING ATHLETES:
Schuyler High School (32 Athletes pre and post tested)
#1 Twenty four athletes showed an increase in grip strength (75% of the group)
#2 Four athletes showed no increase of grip strength (12.5% of the group)
#3 Four athletes actually showed a loss of grip strength (12.5% of the group)
(The average strength increase of this group #1 was 21.5 pounds, which was a 15.8% increase in strength)
NO GRIP TRAINING ATHLETES:
Madison High School (20 Athletes pre and post tested)
#1 Zero athletes showed an increase in grip strength (0% of the group)
#2 Four athletes showed no increase of grip strength (20% of the group)
#3 Sixteen athletes showed a decrease in grip strength (80% of the group)
(The average strength decrease of this entire group was 7.5 pounds, which was a 9.5% decrease in strength)
My overall conclusion of the study is that the Grip Pro did help increase the grip strength of our wrestlers. Using this product did not add to our practice time or significantly change what we do each day in practice. Once our kids got into the routine, it was very easy to incorporate this training. In order to validate our results, it would be interesting to replicate the study and see if similar results could be achieved.
I want to thank Erich at Grip Pro for sponsoring this study and supporting us in this venture. I would encourage other teams to try this training method because I do think it builds grip strength and I think it will help your athletes be more successful in wrestling.
Jim Kasik
Head Wrestling Coach, Schuyler Central High
Schuyler, NE